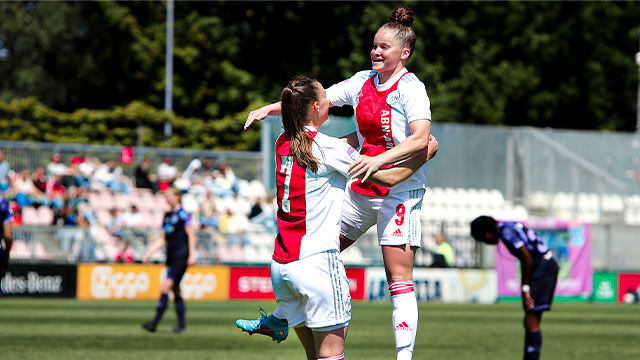 Ajax heeft een rijke historie in het ontwikkelen van talent. Een herkenbare filosofie om talent tot bloei te brengen ligt hieraan ten grondslag.
Op 16 november 2022 organiseren wij een webinar over de Vrouwen. Het webinar is een van de 14 opleidingsbijeenkomsten uit de 1* Ajax Opleiding. Wil je liever de gehele 1* Ajax Opleiding volgen, klik dan
hier
voor meer informatie. Let op: de inschrijving voor de gehele opleiding sluit op zondag 18 september 2022.
Vrouwen
Als marktleider in het opleiden van talent en als grootste Nederlandse voetbalclub moeten we altijd voorop lopen en onze verantwoordelijkheid nemen. Het vrouwenvoetbal heeft zich de afgelopen jaren sterk ontwikkeld. Ajax heeft naast het Vrouwen 1 team nu verschillende teams waar meiden uit de jeugd een kans krijgen. Meisjes mogen ook dromen om ooit bij Ajax te kunnen spelen.

Inschrijven voor het webinar is mogelijk tot en met zondag 13 november 2022.
Onze docenten
Daphne Koster
Manager Ajax Vrouwen en De Toekomst
Bart Logchies
Hoofddocent
Ajax Coaching Academy
Details
Datum: 16 november 2022

Tijd: 19:30 - 21:00 uur

Locatie: online

Niveau: 1* - introductie

Voor wie: alle geïnteresseerden

Gesproken taal: Nederlands
Prijs
€37,50 inclusief BTW
Sign up for
Do you want to be the first to know about our new online and offline activities? Then sign up for free and join us!
Get in touch!
Do you want to become a partner club or do you want a tailor-made programme? Then contact us now and share your request.