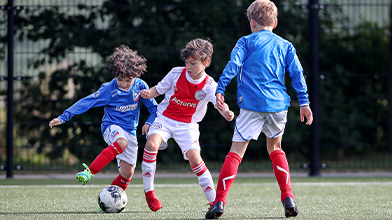 Ajax heeft een rijke historie in het ontwikkelen van talent. Een herkenbare filosofie om talent tot bloei te brengen ligt hieraan ten grondslag.
Op 28 september 2022 organiseren wij een webinar over Scouting. Het webinar is een van de 14 opleidingsbijeenkomsten uit de 1* Ajax Opleiding. Wil je liever de gehele 1* Ajax Opleiding volgen, klik dan
hier
voor meer informatie. Let op: de inschrijving voor de gehele opleiding sluit op zondag 18 september 2022.
Scouting
Aan een goed draaiende jeugdopleiding gaat een goede jeugdscouting vooraf. Ajax is gebaat bij een continu hoogwaardige instroom van talentvolle jeugdspelers uit Nederland en andere EU-landen. Bij Ajax wordt er onderscheid gemaakt in 3 fases binnen Scouting: herkennen, beoordelen en instromen. Professionele en vrijwillige scouts worden bij dit gehele proces ingezet. Hierbij kijken de scouts naar het talent van een speler.
Inschrijven voor het webinar is mogelijk tot en met zondag 25 september 2022.
Onze docenten
Niek Nijboer
Professionele Jeugd Scout & Coördinator Video Scouting
Bart Logchies
Hoofddocent
Ajax Coaching Academy
Details
Datum: 28 september 2022

Tijd: 19:30 - 21:00 uur

Locatie: online

Niveau: 1* - introductie

Voor wie: alle geïnteresseerden

Gesproken taal: Nederlands
Prijs
€37,50 inclusief BTW
Sign up for
Do you want to be the first to know about our new online and offline activities? Then sign up for free and join us!
Get in touch!
Do you want to become a partner club or do you want a tailor-made programme? Then contact us now and share your request.