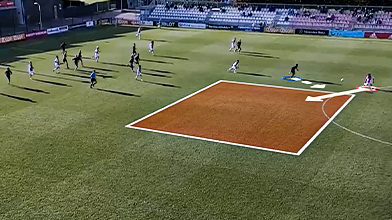 1* AJAX WEBINAR
VIDEO ANALYSE
Ajax heeft een rijke historie in het ontwikkelen van talent. Een herkenbare filosofie om talent tot bloei te brengen ligt hieraan ten grondslag.

Op 8 februari 2023 organiseren wij een webinar over Video Analyse. Het webinar is een van de 14 opleidingsbijeenkomsten uit de 1* Ajax Opleiding.

Video Analyse
Een Video Analyse is een analyse op basis van video. De afdeling zorgt met kwalitatief hoogwaardige beeldanalyses voor snelle en doeltreffende ondersteuning in de belevingswereld van de doelgroep. Video Analyse is geen doel op zich, maar een hulpmiddel om een strategisch voordeel te bewerkstelligen. Beelden worden gebruikt voor spelers, trainers en bestuurders en beantwoorden het ritme van individuele- en teamontwikkeling.


Inschrijven is mogelijk tot en met woensdag 8 februari 2023, 12:00.
Onze docenten
Tijs Logchies
Videoanalist 016
Videoanalyse
Erik Jagers
Videoanalist 017
Videoanalyse
Details
Datum: 8 februari 2023

Tijd: 19:30 - 21:00 uur

Locatie: online

Niveau: 1* - introductie

Voor wie: alle geïnteresseerden

Gesproken taal: Nederlands
Prijs
€37,50
€24,95 inclusief BTW
Actie loopt tot en met 1 februari 2023
Sign up for
Do you want to be the first to know about our new online and offline activities? Then sign up for free and join us!
Get in touch!
Do you want to become a partner club or do you want a tailor-made programme? Then contact us now and share your request.