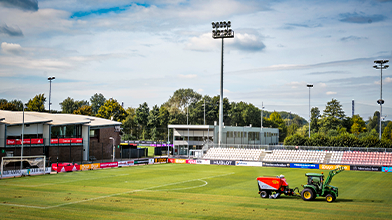 Ajax heeft een rijke historie in het ontwikkelen van talent. Een herkenbare filosofie om talent tot bloei te brengen ligt hieraan ten grondslag.

Op 1 februari 2023 organiseren wij een webinar over support. Het webinar is een van de 14 opleidingsbijeenkomsten uit de 1* Ajax Opleiding.

Support

Support bestaat uit alle niet-voetbal gerelateerde afdelingen binnen de jeugdopleiding. Doel van deze afdelingen is het ultiem ondersteunen en ontzorgen van de voetbalafdelingen. De afdelingen hebben als taak alle activiteiten en werkzaamheden vlekkeloos op elkaar aan te laten sluiten en volgens een strakke regie te laten verlopen. De afdelingen zijn nauw verweven met elkaar en vormen een cruciaal gedeelte van onze jeugdopleiding.

Inschrijven is mogelijk tot en met woensdag 1 februari 2023, 12:00.
Onze docenten
Details
Datum: 1 februari 2023

Tijd: 19:30 - 21:00 uur

Locatie: online

Niveau: 1* - introductie

Voor wie: alle geïnteresseerden

Gesproken taal: Nederlands
Prijs
€37,50
€24,95 inclusief BTW
Actie loopt tot en met 1 februari 2023
Sign up for
Do you want to be the first to know about our new online and offline activities? Then sign up for free and join us!
Get in touch!
Do you want to become a partner club or do you want a tailor-made programme? Then contact us now and share your request.