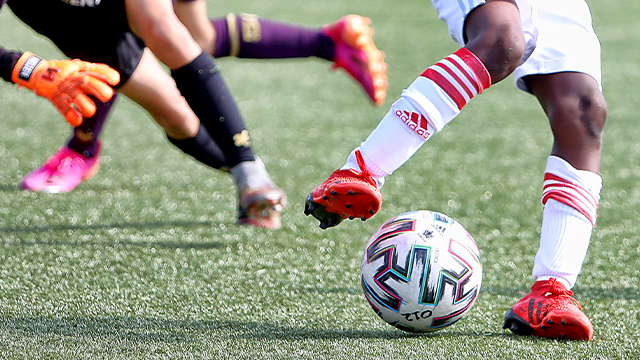 2* AJAX SEMINAR
CRUIJFF-KWALITEIT:
DOMINEREN AAN DE BAL
Ajax heeft een rijke historie in het ontwikkelen van talent. Een herkenbare filosofie om talent tot bloei te brengen ligt hieraan ten grondslag.

Van 19 t/m 21 oktober 2022 organiseren wij een seminar over
Cruijff-kwaliteit - Domineren aan de bal in de onderbouw
bij Ajax
.

In onze opleidingsfilosofie hanteren we drie pijlers. Één daarvan is Cruijff-kwaliteit. In de Ajax-opleiding betekent deze pijler dat we spelers willen opleiden die het verschil kunnen maken aan de bal. Hierin maken we onderscheid tussen Frontaal passeren en Domineren aan de bal. Tijdens deze drie dagen, word je meegenomen in de basismodule Cruijff-kwaliteit - Domineren aan de bal waarbij de focus ligt op het aannemen en verwerken van de bal in de onderbouw en hoe je dit organiseert binnen een training. Hierbij wordt theorie en praktijk afgewisseld.

Voor het seminar hanteren we een maximaal aantal deelnemers. Inschrijven is mogelijk tot en met 12 oktober 2022.
Na deelname aan het seminar
Heb je kennis van de Ajax DNA

Kun je de Ajax DNA vertalen naar voetbalwaarden

Begrijp je de vertaling van de voetbalwaarden naar de drie pijlers van Ajax

Heb je kennis van de inhoud van de pijler Cruijff-kwaliteit, Domineren aan de bal en het aannemen en verwerken van de bal in de onderbouw

Kun je de inhoud toepasbaar maken in het organiseren binnen een training
Details
Data: 19, 20, 21 oktober 2022

Tijd: 09:00 - 17:00 uur

Locatie: Sportcomplex de Toekomst

Niveau: 2* - basis

Voor wie: trainer/coach

KNVB licentiepunten: 6

Certificaat: ja

20% kortingsvoucher Ajax Fanshop

Maximaal aantal deelnemers: 60

Gesproken taal: Nederlands
Prijs
€495,- inclusief BTW
Sign up for
Do you want to be the first to know about our new online and offline activities? Then sign up for free and join us!
Get in touch!
Do you want to become a partner club or do you want a tailor-made programme? Then contact us now and share your request.