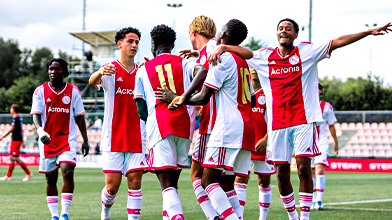 1* AJAX WEBINAR
PROFESSIONAL DEVELOPMENT U17-U18
Ajax has a rich history of developing talent, with a recognizable philosophy as a foundation.


On 29 March 2023 we will organize a webinar about the Professional Development. The webinar is one of the Education meetings from the 1* Ajax Education Program.

Professional development U17-U18
The Professional development phase is the final phase of the youth academy headed for professional football, from teams U17 and U18. An Ajax talent knows a versatile development in the Foundation- and Youth development phase. In the Professional development phase, we zoom in to the individual qualities of a player and try to specifically develop those unique skills with which the player can make a difference. Nowadays players need to be ready to perform very early. Ajax provides talents with an international stage at a very young age. If you are good enough, you are old enough. This applies to all the youth phases, but especially the professional development phase.

Signing up is possible until 29 March 2023, 12:00 CET.

Our experts
Bart Logchies
Head of Education
Ajax Coaching Academy
Roy Lagendijk
Ajax Expert Youth Academy


Details
Date: 29 March 2023

Time: 18:00 - 19:30 CET

Location: online

Level: 1* - introduction

Who: all interested

Language: English
Price
€37,50 €24,95 VAT included
Special offer available until 1 February 2023
Sign up for
Do you want to be the first to know about our new online and offline activities? Then sign up for free and join us!
Get in touch!
Do you want to become a partner club or do you want a tailor-made programme? Then contact us now and share your request.